25 Amazing bible verses for healing and emotional strength
Word of Inspiration:  Hello praise God that you're here for reading amazing bible verses for healing and emotional strength, It's a matter of Joy for zionmusicorum as we know how the life goes when nobody is with you or around you, it's feels devastated, like everything is come up to an end.
But wait we have good news for you that there is a still hope, and if there is a hope then there is a life, there is much more thing than you could expect, Exactly we don't know from what's situation you're going through, but for your every problem we have solution  for you.
Receive Jesus and set free from your every breakage, the only way you can get out from your situation is to read his word, and pray to him, surely he listen your heart and will speak to you. As you read this amazing bible verse for healing, may God heal you and  bless you! Amen.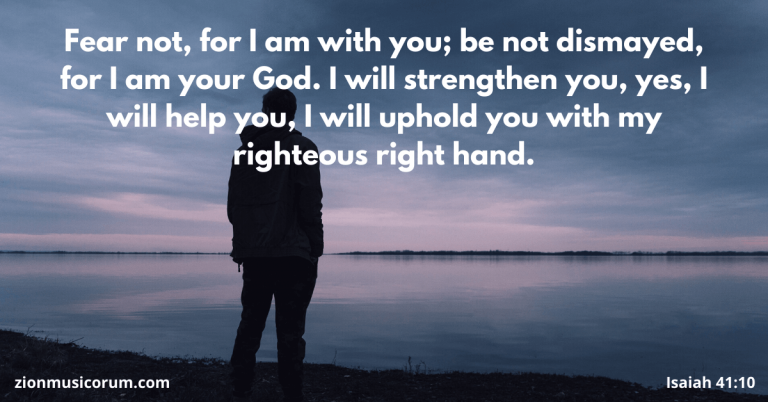 Fear not, for I am with you; be not dismayed, for I am your God. I will strengthen you, yes, I will help you, I will uphold you with my righteous right hand.
Isaiah 41:10
You may listen this, in case you don't want to read!
You restored me to health and let me live. Surely it was for my benefit that I suffered such anguish. In your love you kept me from the pit of destruction; you have put all my sins behind your back.
Isaiah 38:16-17
LORD my God, I called to you for help, and you healed me.
Psalm 30:2
Come to me, all you who are weary and burdened, and I will give you rest.
Matthew 11:28
But I will restore you to health and heal your wounds,' declares the LORD.
Jeremiah 30:17
And my God will meet all your needs according to the riches of his glory in Christ Jesus.
Philippians 4:19
Is anyone among you sick? Let them call the elders of the church to pray over them and anoint them with oil in the name of the Lord. And the prayer offered in faith will make the sick person well; the Lord will raise them up. If they have sinned, they will be forgiven.
James 5:14-15
There is a time for everything, and a season for every activity under the heavens: a time to be born and a time to die, a time to plant and a time to uproot, a time to kill and a time to heal, a time to tear down and a time to build, a time to weep and a time to laugh, a time to mourn and a time to dance, a time to scatter stones and a time to gather them, a time to embrace and a time to refrain from embracing, a time to search and a time to give up, a time to keep and a time to throw away, a time to tear and a time to mend, a time to be silent and a time to speak, a time to love and a time to hate, a time for war and a time for peace.
Ecclesiastes 3:1-8
Those who believe in him, they know the meaning of waiting, for them waiting mean relying on God for everything as he know a right time for our every need, you shall renew your strength at the right time, you just have to trust on him.
He gives power to the weak, and to those who have no might He increases strength…Those who wait on the LORD shall renew their strength; they shall mount up with wings like eagles, they shall run and not be weary, they shall walk and not faint.
Isaiah 40:29,31
He himself bore our sins in his body on the tree, that we might die to sin and live to righteousness. By his wounds you have been healed.
1 Peter 2:24
This is my comfort in my affliction, that your promise gives me life.
Psalm 119:50
He heals the brokenhearted and binds up their wounds.
Psalm 147:3
Beloved, I pray that all may go well with you and that you may be in good health, as it goes well with your soul.
3 John 1:2
Not only that, but we rejoice in our sufferings, knowing that suffering produces endurance, and endurance produces character, and character produces hope.
Romans 5:3-4
Heal me, O LORD, and I shall be healed; save me, and I shall be saved, for you are my praise.
Jeremiah 17:14
Have mercy on me, LORD, for I am faint; heal me, LORD, for my bones are in agony.
Psalm 6:2
Worship the LORD your God, and his blessing will be on your food and water. I will take away sickness from among you.
Exodus 23:25
The righteous cry out, and the LORD hears them; he delivers them from all their troubles. The LORD is close to the brokenhearted and saves those who are crushed in spirit.
Psalm 34:17-18
But he said to me, 'My grace is sufficient for you, for my power is made perfect in weakness.' Therefore I will boast all the more gladly of my weaknesses, so that Christ's power may rest on me.
2 Corinthians 12:9
When Jesus came down from the mountainside, large crowds followed him. A man with leprosy came and knelt before him and said, 'Lord, if you are willing, you can make me clean.' Jesus reached out his hand and touched the man. 'I am willing,' he said. 'Be clean!' Immediately he was cleansed of his leprosy.
Matthew 8:1-3
Gracious words are a honeycomb, sweet to the soul and healing to the bones.
Proverbs 16:24
So Jesus healed many people who were sick with various diseases, and he cast out many demons. But because the demons knew who he was, he did not allow them to speak.
Mark 1:34
Such a prayer offered in faith will heal the sick, and the Lord will make you well. And if you have committed any sins, you will be forgiven.
James 5:15
But he was pierced for our rebellion, crushed for our sins. He was beaten so we could be whole. He was whipped so we could be healed.
Isaiah 53:5
Let all that I am praise the Lord; may I never forget the good things he does for me. He forgives all my sins and heals all my diseases.
Psalm 103:2-3
(Q) – Which Bible gives you a Strength?
(A)  When you read Psalm 46:1 it says God is our refuge and strength and a very present help in trouble.
(Q) Which is a good Bible Verse for Healing?
(A) When you read Mathew 11:28 it says come to me who are weary and overburdened, I will give you a rest.
(Q) Which is a good Bible Verse for Courage and Strength?
(A) When you read Deuteronomy 31:6 it says Be strong and have good courage, and don't be afraid of anyone, your lord he is with you, neither he'll leave you nor forsake you.
(Q) What God says about Overcoming Obstacle?
(A) When you read Psalm 27;1 it says that The Lord is my light and my salvation, Whom shall I fear, neither obstacle nor hardship, my Lord is with you.
(Q) Is God with you in your hardship?
(A) Definitely he is with you, no matter what you're going through but the lord is with you forever.
We believe that you must have liked this amazing collection of Bible verses for healing and emotional strength, if you like it then do share the link in your group and your social media. May God bless you for this generous work.
Share on your Social Media: